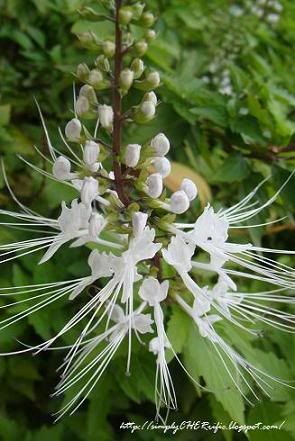 Cat's whiskers is one of the most elegant garden annuals. When the flowers open, the stamens and pistil extend out far beyond the petals, creating the "cat's whiskers" effect. The flowers are most commonly white, but they can also occur in shades of purple. Orthosiphon aristatus prefers full sun and a moist garden soil for best growth and flowers. However, it grows perfectly well in light shade in warmer climates. – James R. Adams, Curator of the National Herb Garden, Promising Plants Presentation, 2005

Origin:
South East Asia and tropical Australia.

Background:
Orthosiphon aristatus is from the family of Lippenblütengewächse/Lamiaceae /Labiatae.

Variant Names:
Cat's whiskers is also known as Kumis Kuching or Remujung, Misai Kuching, Orthosiphon Stamineus Benth, Orthosiphon Aristatus, Orthosiphonblaetter, Indisher Nierentee, Feuilles de Barbiflore, Java Tea, Javatee, Kidney Tea, Koemis Koetjing and Yaa Nuat Maeo.
Photograph taken at Fort Canning Park, Singapore by Cher