The
Salitype Society
, founded July 18, 2008,
exists for meaningful reasons. First, it was founded to provide a haven for bloggers.To commune with others who shares the same passion for blogging.

Secondly,as we moved on, we found another calling in the form of sponsoring a charity foundation. This blog meager earnings partly go to charity –we are sending two students to school aside from helping in our little ways other forms of charity that needed immediate help, all from the income generated by this site.
The Salitype Society First Scholar
The Salitype Society Second Scholar
There is this group Tapulanga Foundation, they are an army of kindness: living among the very people they help. They don't present the gifts and leave. They administer the gifts and linger as good neighbors should. Part social worker, part Sunday School teacher, helping body and soul. Check out the Tapulanga Foundation site for more details and if you also wanted to help a child.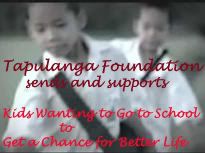 We are NOT inhibited to accommodate other forms of charity --God willing we will generate more funds. For now, baby steps –slow but sure.

We thank you dear readers and supporters of this site. Your help in making this site grow in readership, allows The Salitype Society to live their dreams of giving a child a fair chance in life.