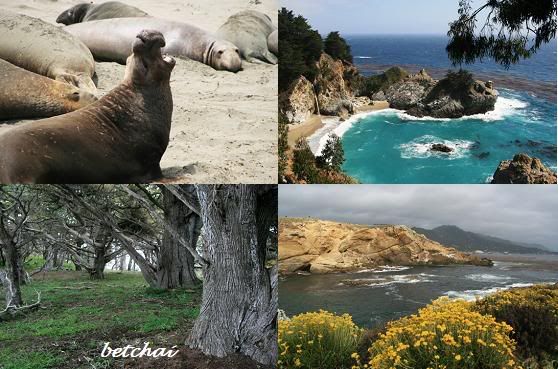 Pacific West Coast
I used to think before that America is a place I could never lived. The stories I heard from TV shows, from hearsay, from movies, were enough to convince me that the United States of America is not my kind of place. Until, one day in 2002, upon the encouragement of my late mom, I took a vacation to America. Before I left home, all my friends told me to take pictures of Disneyland, of Holywood, and of Las Vegas. I said yes to all their requests because frankly those were also just the places I knew about the USA. None of the places I knew could give me a reason to migrate to America.
On my first full day in USA, following the wishes of my friends, I was at Disneyland. However, the long line and the crowd made me dizzy. All of a sudden, I found myself having a throbbing headache. I did not want to spoil the party, especially that the entrance fee we paid was expensive. I simply asked my closest friend if he could drop me somewhere close by, where there are less people, for me to breathe some fresh air. He asked, "where would you rather be, Betch?" I replied: "By the sea, is there a place close to Disneyland that is by the sea?" I was dropped at Laguna Beach, close enough to Disneyland where the rest of my group were enjoying the happiest place on Earth. At Laguna Beach, I fell in love with the city that is bordered by the rugged Pacific west coastline. There, the dream to move to America was born, to strike a balance between work in the city and nature. I started doing the steps to migrate to USA as soon as my vacation ended and was back to the Philippines.
A year later, when I went back to Los Angeles, I was prepared to try my luck migrating to America. One of the first things I did was to consult an immigration lawyer. There are many immigration lawyers in Los Angeles, and it is tough deciding who to consult. Finding a reliable and experienced law firm such as the
immigration law firm of Garg and Associates
is important to get a realistic immigration counseling more specific to the applicant's situation. I felt I was lucky enough to get the right advise what to do to increase my chances of migrating. Per the advise of the
immigration lawyer in Los Angeles
, I had my transcript of records evaluated for foreign equivalency. After I was rewarded with the equivalent degree, I focused my job search on my educational qualifications. I felt so thankful that in a month's time, I was able to find a job that matches my educational expertise, thus, my employer's application for a change of visa for me was readily approved. I am so glad for having taken the steps, to realize the dream that was born while I was listening to the music of the pounding waves of the rugged Pacific West Coast.