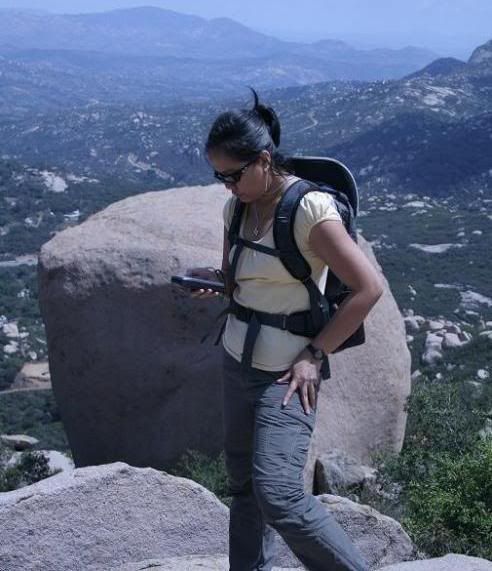 Hiking Mt Woodson, San Diego
Do you know that hiking is just as easy as walking? If you can walk, definitely you can hike. The only difference is that, most of our walking is in the city, whereas hiking is in the wilderness. We walk mostly on level surfaces in the city, whereas we walk sometimes on treacherous slopes in the wilderness. Because of this, hiking wear is not about fashion but is about
comfort and safety!
But who says that to be comfortable and safe, one could not look chic, if at all that matters? Elegance, after all, is what is inside that radiates outside.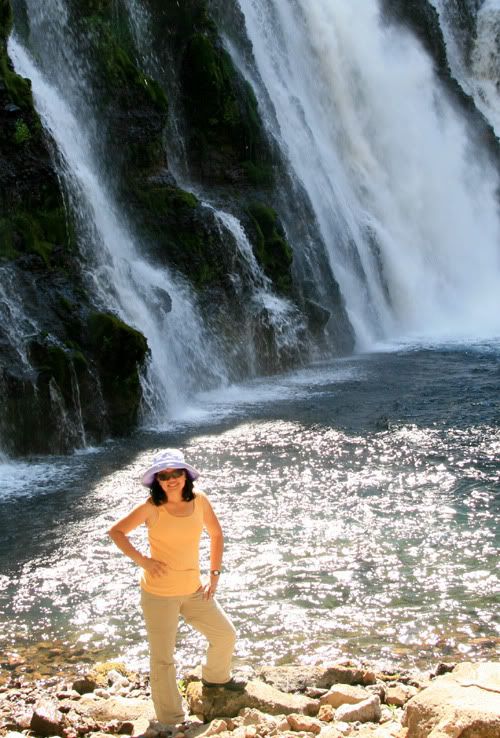 Hiking @ Burney Falls, Burney, CA, summer 2009
Even though hiking calls for a different set of clothing, however, a woman's glamour is not dictated by her clothes, rather, it is influenced by the way she confidently carries and projects herself. She can be in a total hiking gear, but she can keep her femininity glow.
To make hiking more pleasant and comfortable, here are some basic hiking gears:
1. SHOES/BOOTS AND SOCKS :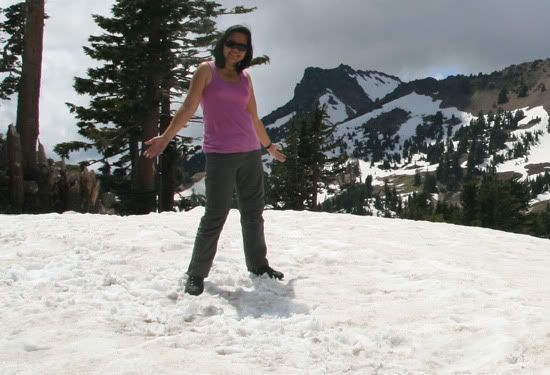 Hiking the snowy Slopes to Bumpass Hell, Lassen Volcanic National Park, CA, summer 2009
(shoes: Lowa Renegade GTX Mid Hiking Boots )
When we go hiking, we don't simply wear our walking shoes, and most especially fashion shoes which don't have any trace of support at all. Ordinary sneakers ( walking shoes, running shoes, tennis shoes, etc) are not designed for rough terrain, even good quality tennis shoes have poor traction and nil ankle support. Twisting of ankles, getting blisters and damaging toenails are some of the common sad occurrences if we do not wear proper footwear when we hike.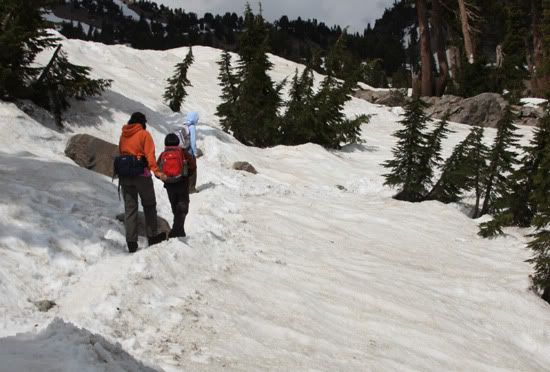 Hiking on Snow Covered Trail to Bumpass Hell, summer 2009
If we wanted to experience nature and see its marvelous beauty, we need to invest on some really good quality hiking shoes/boots that will protect us away from injuries. Good quality hiking shoes/boots can be very expensive, but then, it is a lot more expensive if we injure our feet or ourselves when we fall.
In addition to hiking shoes/boots, hiking calls for hiking socks. We can have a very good pair of hiking shoes but still end up with having blisters because we do not wear the right socks. Cotton socks are a BIG NO in hiking, as they easily get wet, causing blisters. Like hiking shoes, we need to invest on good quality hiking socks as well. When hiking, we have to forget about high heeled shoes and flip flops, for after all, a woman's femininity does not depend on her shoes. How do you think you would look if you hike on that icy slopes with high heeled or stilleto boots? Do you think you would still look fashionable? Chances are, you would simply solicit wrong attention and you could not even walk a meter and you fall, good if you fall on the trail only and not slide down the mountain cliffs. Mind you, I do see some who walk barefoot while carrying their shoes in the trail and turning around without completing the hike, for they could no longer bear the pain caused by wearing the wrong kind of shoes.
2. SHIRT: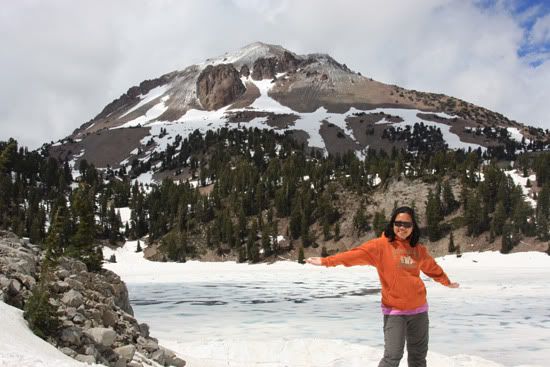 Frozen Lake Helen and Lassen Peak, Lassen Volcanic National Park, CA, summer 2009
Dressing in light and breathable layers is very important in hiking. No matter how cold the temperature is, but after a while of hiking, our body heat builds up warming us inside and causing us to sweat. No matter how warm the day is, but the weather can change all of a sudden turning the wind so icy and chilly that if we are not prepared, we are caught suffering the unpredictable moods of nature.
A. Base shirt or first layer:
Our greatest discomfort when we hike is sweating which can not be avoided since we exercise our body. Cotton shirts absorb and hold our sweat which add weight to our hike, and if it is cold, could be the cause of hypothermia. Synthetic shirts on the other hand wick the sweat away from our skin and move it towards the outside of our shirt for quick drying. Plus, synthetic shirts are a lot more breathable than cotton, allowing our body to sweat efficiently, healthily and more comfortably. If you look closely at most long distance runners on the street on a very hot day, their shirts are synthetic for simple reasons: lightness, comfort and breathability.
B. Mid Layer
If the temperature is not extremely cold, two layers is good enough. One base shirt, and one sweatshirt. Fleece jackets are great for mid layers or outer layer ( when we only need two layers ). They are good thermal insulators and have the same moisture-transporting qualities as base layers. They transport moisture to the outer layer and dry very quickly.
C. Outer Layer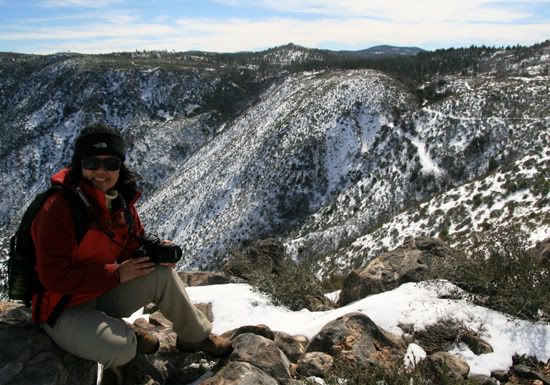 Hiking Garnet Peak, Mt Laguna, San Diego County, winter ( Jan 2009 )
(Outer Layer/Shell: Arc' Teryx Alpha SV Jacket )
Usually, we only need a 3rd layer when it is too windy and icy. Before, hikers used to bring two types of jackets: waterproof if in case it rains or snows, and a breathable thermal insulator when it is dry. Thankfully, because of research and technology, we do have outer layers right now that is extremely breathable ( very important to dry out that sweat quickly not only for performance but also for health reasons), yet also is water proof, windproof and absorbs shock. Plus, the material today is also very light that does not look like for extreme weather at all. From wilderness it can cross to the city without a problem. A good quality outer jacket can cost from $300 - $600, so, if one does not not intend to hike nor ski in winter at all, there is really no need to invest in one. One can invest it in good quality hiking shoes instead.
3. HIKING PANTS:
Moro Rock, Sequoia National Park, Summer 2008
(
Hiking Pants by North Face Paramount Porter Convertible Pants
)
I know, before, we did hike in jeans, plus of course, jeans are more fashionable. But after discovering the ultra comfort and lightness of hiking pants, I hardly hike in jeans anymore. A lot of hiking places take place in areas where temperatures can vary greatly between warm and cold. If it is too warm, you will curse your jeans. If it is too cold, you wish you don't wear shorts. Hiking pants, though very light, but they can accommodate temperature fluctuations more than shorts and jeans. The breathability and ultra lightness of hiking pants make the hike easier on the legs. Also, most hiking pants can be zipped off and change into shorts without changing at all.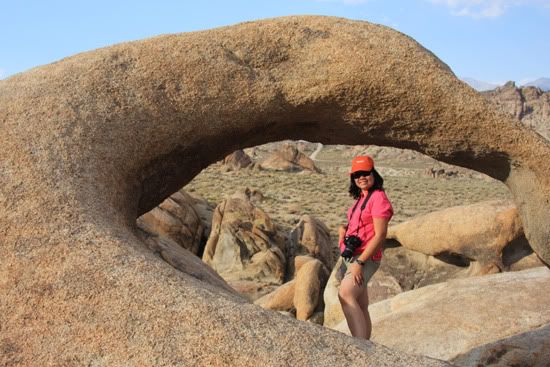 Alabama Hills, Lone Pine, CA, summer 2008
( from the High Sierra which is chilly, down to the desert valley, which is hot, I had to zip off my hiking pants to shorts without changing at all. This is the same style hiking pants as the Moro Rock picture above. )
Hiking pants also protect us from serious scratches from branches, itch from poison oaks, insect bites, sun rays (most hiking pants have UPF 30), and it keeps us warm even when it is cold and wet, yet it keeps us cool when it is warm. We can always zip off the lower portion and change to shorts if it really becomes too warm and there is no danger of scratching our legs from branches.
4. Wide hat, sunglasses and sunscreen.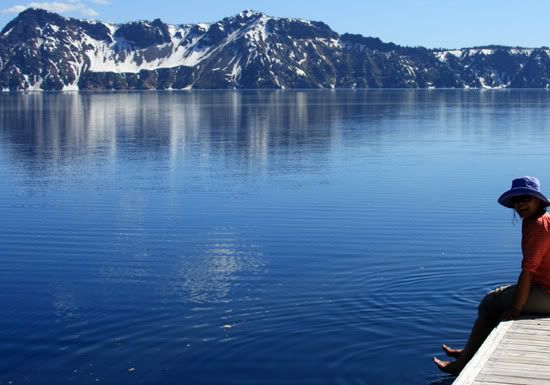 Enjoying the Deep Blue and Cold Waters of Crater Lake National Park, OR, summer 2009
( the only way to go down to the lake shore is to hike down from the rim of the crater )
I think it is pretty basic that hiking does not shy away from both the cold and the sun, but we do need as much protection from all these exposure to elements. A good trail hat with sun protection and a sunscreen is a must. The advantage of women over men is that women can wear make-up, and from my experience and backed up by recent researches, women's moisturizer and make-up acts as a better sunscreen. My face don't get easily sunburned if I wear make up, of course with SPF rating and usually the waterproof kind.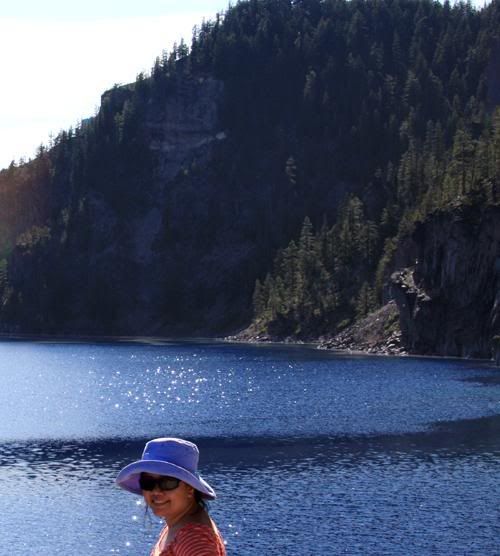 At Crater Lake's Shore, Crater Lake National Park, OR, summer 2009
( I wear make-up here for my facial sunscreen, but can you tell? )
Who says make up is a no no in hiking? Just like what
Che
said, a little make-up here and there won't hurt, in fact, it helps! Sunglasses are also very important in hiking, they are not not meant to be fashionable, but to protect our eyes from the glare of the sun, for after all, we do need to take care of our health and eyesight.
@ Arches National Park, Utah, spring 2009
If you noticed in the picture above and in my other pictures, my backpack has waist and chest belt. These belts serve to hold the backpack in place and transfer the weight to the waist, therefore avoiding back and shoulder injuries. Hiking backpacks have extra cushion on the shoulder and at the back to minimize shock and avoid back injuries, plus the material is more breathable allowing our back skin to breathe and not be saturated by sweat. Frankly, my camera and lenses are quite heavy (or very heavy for some), plus I carry bottled water, gatorade, bananas, other foods, first aid, compass, GPS, reflector blanket, etc when I hike. Yet, I hardly can feel all these weights on my back and shoulders, in fact, my waist or hips do not even complain. When hiking, we can not afford to bring ladies bag, unless you want to hurt yourself or be the subject of wrong attention. If probably these hiking wears/gears are not present today, I may be also complaining about the roughness of hiking, and may not be bringing my heavy camera with me when I hike. But because of them, my experiences are very pleasant and very comfortable, making hiking easy and truly enjoyable.
Let me leave you with these two quotes from John Muir:
"
Keep close to Nature's heart... and break clear away, once in awhile, and climb a mountain or spend a week in the woods. Wash your spirit clean.
"
and
"Everybody needs beauty as well as bread, places to play in and pray in, where nature may heal and give strength to body and soul.
"
Earth has so much to offer, all we have to do is move our feet and keep on going. As an exchange, we take care of our health and fitness. Plus, we take away life's stresses and rejuvenate our spirits. Come, let us take a hike, let us explore our world outside. Let's enjoy life out of the door!