Grand Canyon National Park, AZ
Have you planned your summer vacation yet? I invite you to book flights to america where it is easier to find great deals from the many airlines that fly to its top destinations. Experience the American Dream we all have heard about, and explore many of America's Best when you spend your holidays in America. You could explore some of the world's natural wonders, National Geographic's World's Best Drives of a Lifetime,
McWay Falls, on Highway 1, Big Sur, CA
nature hikes,
Harding Icefield Trail, Kenai Fjords National Park, AK
Historical Landmarks, dynamic cities, and many more. America is known to be huge, with so many top notch destinations. I myself do not want to confuse you with so many choices. Let me share with you instead one of my favorite vacation destinations in America, California-Nevada.
Are you up for a long road trip and hikes? If so, come join me now in this virtual trip. Let us start our virtual trip at Las Vegas- your arrival city!
Las Vegas Strip, NV
When you are at Las Vegas, you can choose to enjoy the city or explore the natural wonders around it. Las Vegas is the heart of Grand Circle, a mind boggling and really amazing destination.
Some of the Natural Wonders at the Grand Circle
From top left clockwise: Grand Canyon, Antelope Canyon, Arches National park, Monument Valley
The Grand Circle is one of my favorite places for an adventure vacation, however, I have shared in this site already how to explore the Grand Circle. In this post, I will share instead another option if you are exploring from Las Vegas. Let me bring you to another wonderful road trip of a lifetime, Las Vegas-San Francisco-Los Angeles with national parks and natural wonders in between. Here, you will experience the geographical diversity of America, from the desert, to the alpine peaks, to the ocean, in one trip, with the bonus of experiencing some of its vibrant cities.
From Las Vegas, you can go Southwest to Death Valley National Park (2.5 hours from Las Vegas). I must warn you however that in the summer, this place may be the hottest place on Earth, but if you come in the cooler months of November-March, this place has one of the most comfortable temperature on Earth.
Mesquite Sand Dunes, Death Valley Nationa Park, CA
From Death Valley National Park, experience the contrast as you go from the lowest point in the Western hemisphere to the highest peak in the contiguous US as you move to Lone Pine (2 hours away from Death Valley).
Mobius Arch framing Mt. Whitney, the highest peak in the contiguous US
From Lone Pine to Lee Vining, which is the gateway to Yosemite National Park, your drive I assure you would have so many stops.
The Geographical Contrast in the Eastern Sierra
It all depends on you if you want to take your time, stop at the many sights of the Eastern Sierra, or just continue to Lee Vining before you enter Yosemite National Park. When you are at Lee Vining, don't forget to explore one of my favorite places on Earth, Mono Lake South Tufa State Reserve, it's an alien's kingdom that found its way thankfully on Earth.
Mono Lake South Tufa State Reserve, dawn
Mono Lake South Tufa State Reserve, dusk
From Lee Vining, you can choose to continue to explore at Lake Tahoe, or explore Yosemite National Park. In this post, I will bring you to one of my favorite National Parks, Yosemite National Park.
Half Dome, Liberty Cap, Nevada Falls from John Muir Trail (hiking @ Yosemite)
Bridalveil Falls ( Yosemite without the hike)
You can stay for a week in Yosemite and still find so many things to do, or you can stay for a few days and still be inspired by its wonders. After Yosemite, we move west to San Francisco, California.
The Golden Gate Bridge and the city of San Francisco from Marin Headlands
After you have experienced the lovely city of San Francisco, you move South to Los Angeles to experience the Hollywood stars, via Big Sur, Ca, one of the world's best drives.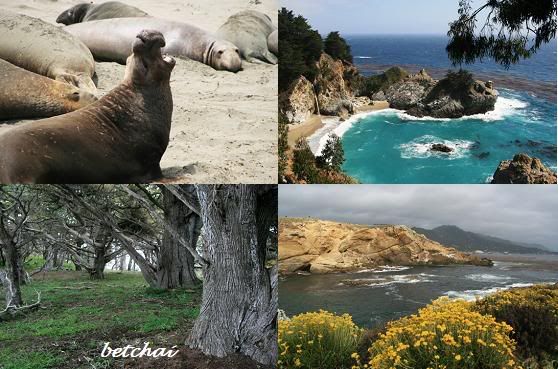 Big Sur, CA
After Los Angeles, CA, now, I will leave the decision to you, whether you want to continue driving South and visit one of my favorite cities in US, San Diego, or you want to go back to Las Vegas for your departure, or you want to continue exploring the East Coast of US. Whatever you decide, I hope, you bring back with you wonderful memories of your holiday in America. If you have some questions in planning, we're here to provide you some inputs. Please do leave us your questions through the comments below.
Thank you for your visit.