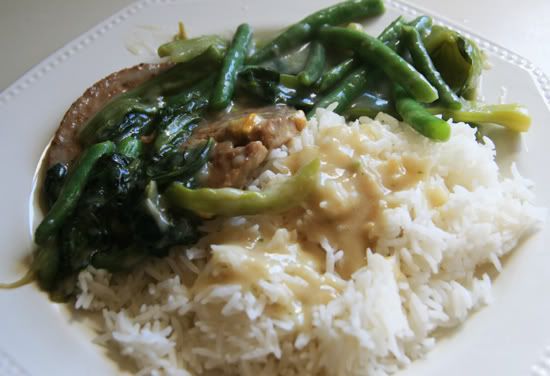 ingredients:
mushroom,onions, garlic, salt, pepper, flour, bread crumbs, olive oil
1. finely chop mushrooms (i prefer brown, like portabello, shitake, or whatever brown so that it looks like real burger, teeehee)
2. saute mushroom in olive oil until tender.
3. in a separate bowl, beat egg and blend in sauteed mushroom.
4. add finely chopped onions and garlic. Garlic can be optional, I just love with garlic, but not too much also.
5. season with salt and pepper. ( i also add a little bit of mustard, just very little for taste- mustard and nutmeg are optional)
5. Slowly add flour and bread crumbs (alternating them), until the mixture thickens and can be formed to patties.
6. shape into burger patties.
7. Either bake or pan fry in olive oil.
mushroom sauce:
ingredients: olive oil, mushroom, garlic, onion, milk ( we use 1% milk at home, but half and half or full cream fresh milk would taste creamier i believe), corn starch to thicken, worcestershire sauce, salt, a little bit of sugar and pepper to taste.
1. saute garlic and onions in olive oil until they are golden brown and smells good.
2. add mushroom and sautee until mushroom is tender.
3. dissolve cornstarch in milk.
4. add the cornstarch and milk mixture.
5. simmer. season with salt, pepper, worcestershire sauce, a little bit of brown sugar and garlic powder.
6. continue stirring until the sauce thickens.
7. add the mushroom burger and simmer until they absorb the taste.
Enjoy :)