Inyo County, one of my favorite places in California to spend time with nature. Those who find source of inspiration in this place take delight in the fact that this is the part of California that is less known and less visited. Not too many Americans, in fact, even Californians, know about this wonderland.
Black Sand from Volcanic Lava, Death Valley National Park, Inyo County, CA
For most Californians, usually, they are unmindful of the desert, and would prefer travelling West (to the oceans) than travelling East (to the desert). If ever they travel East, they go to Las Vegas :( , not for nature's beauty, but for Vegas fun. Maybe because when people think about desert, the picture they have in mind is that simply of an uninteresting barren land.
Mesquite Sand Dunes, Death Valley National Park, Inyo County, CA
( Earth does not always have to be green to be beautiful, there is hidden beauty in brown and black too, surreal it may be )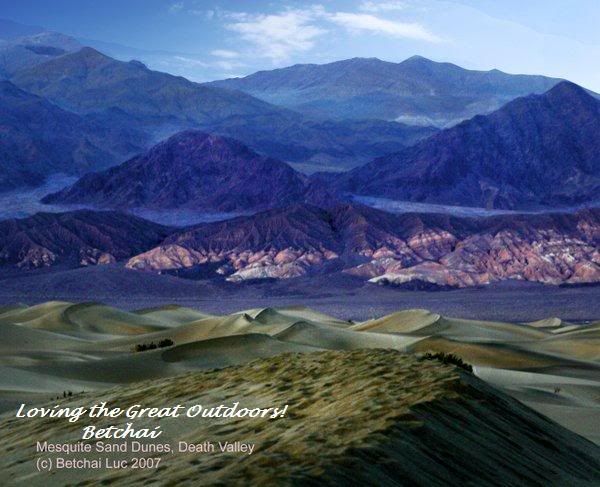 Unknowing to most, the desert has one of the greatest foliage on earth probably, and its glory is most evident during spring. When the dry barren land that no one would think any plant can survive will suddenly come out alive and bring a beautiful life of promise.
Desert Gold (oops, not in Inyo but in San Bernardino County)
Desert Purple and Gold (another ooops, not in Inyo but in San Diego County)
** have not traveled yet to Inyo during spring :( to witness Inyo's wonderful spring foliage :( **
Desert spring foliage is one of mother nature's greatest display on Earth, that not everybody get to see and experience, for not everybody knows life's beautiful twists and turns in the desert. Desert mountains are not devoid of green either. Rain may elude them a lot of the times, they may look brown from afar, but drive up to those desert mountains, and you will be surprised with what you see!
Desert's Fall Foliage @ Bishop, Inyo County
You'd ask, how can forest exist in desert? Then you'll see the low lying clouds and realize that plants are intelligent enough to draw water from those clouds, nature's way of surviving.
Fall @ Bishop Creek Canyon, Inyo County
But the wonders of Inyo County are not limited only to these seasonal changes. Those who have experienced Inyo County know that this land is a haven for those who seek peacefulness and nature's beauty. Death Valley National Park for example, in Inyo County, is geologists' natural disneyland.
Artist's Palette, Death Valley National Park
Inyo is the land of the extremes, the land of the contrasts.
Alabama Hills, Lone Pine
Alabama Hills, Lone Pine
(Popular Location for Old West, Himalayas And Sci-Fi Movies )
"Inyo" comes from an Indian word which means "resting place of the Great Spirit."And we feel just like that everytime we spend time at Inyo County. Our spirits gladfully make wonderful rest in many of Inyo's natural wonders.
Late Fall @ North Lake, Bishop Creek Canyon, Inyo County
Inyo County is a land of magnificent diversity and contrasting diverse geography. Its lowest point, Badwater at Death Valley National Park, is the lowest point in North America and in the Western Hemisphere.
( @ 282 ft below sea level, this is North America's and the Western Hemisphere's lowest point )
Interesting twist of nature, Inyo's highest peak, Mt. Whitney, is the highest point in contiguous US.
One of nature's delightful twists, the highest point in contiguous US and the lowest point in North America and in the Western Hemisphere are situated close to each other, in Inyo County. Aside from these two extremes, Inyo County also has the Ancient Bristlecone Pine Forest, which grows the world's oldest living tree, Methuselah, at 4777 years old. What does nature teach us here? That the oldest living thing on Earth is one that has survived the harsh tests of time and withered all unforgiving elements. In the surreal beauty of the nakedness of the desert, I get reminded that man's true beauty and character is not defined by narcissism, but the deep character that has formed within after responding to all tests in time.