This is a Sponsored post written by me on behalf of
TABASCO® Original Red
. All opinions are 100% mine.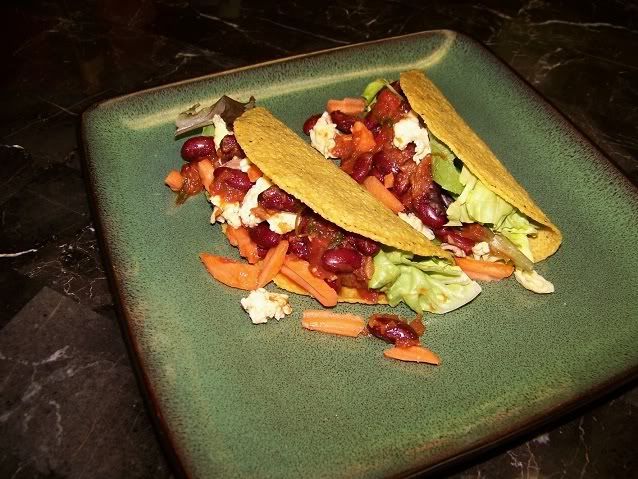 Easy to make kidney bean tacos, courtesy of MJ
Do you remember the very first taco you had?
I do. And I don't guess I'll ever forget it either, because the day I bought my first taco was also the day I slipped on some grease on the floor of a Mexican fast food place in town while carrying the tray - with my very first taco - over to a table. Imagine my feet and legs going out from under me as I landed hard on my rear end in front of a stunned crowd of college kids chowing down on tacos, burritos and the like. Let's just say I completely lost my poise that day. It flew out the window, along with my taco. Well, OK, my taco didn't really fly out the window. But it did land on the floor a good ways from me.
I remember being surrounded by three cute college boys in the seconds following my mishap. They all looked concerned, and no wonder! After I slipped and landed on the floor - and I landed hard! - I made no immediate attempt to get up (my back part hurt bad, is why). I simply sat there in the middle of the grease spot on the floor of that fast food taco place (which, by the way, has since shut down) with a look on my face that was a mixture of shock, sadness, hurt, embarrassment and puzzlement - as in, "Where the heck did my taco go?"
I remember the three guys (who reeked of cheap imitation cologne) gently helped me to my feet after making sure I hadn't broken anything. One of them (who uncannily looked a lot like
Adam Sandler
) marched over to the counter and bought me a replacement taco despite my protests. He then delivered the taco to where I was sitting and instead of leaving me to eat my very first taco in peace, asked if he could join me. What could I say but, "Sure!" The dude had bought me a taco. And he looked like Adam Sandler. I gobbled the taco down. I thought it was OK, but the sauce lacked heat. He asked me how I liked my taco. I said it was perfect, that I loved it, and thank you. In the end - and I knew it was coming, so I was ready - Mr. Adam Sandler bashfully asked if he could call me. I smiled and said, "Sure!," scribbled a random number on a crumpled, old receipt he gave me, shook his hand and walked out the door. Naturally, I never heard from him again. I never returned to that fast food place with the greasy floor either.
Instead, I learned how to make my own tacos. I've been making them for 10 years now and funny thing, the ingredients tend to vary, depending on the contents of our refrigerator. Below is a very simple recipe for:
Kidney Bean Tacos
Ingredients:
- half a cup of kidney beans (This is for two tacos. If you plan to make more, increase the amount of beans)
- butter lettuce blend (or any kind of salad greens you fancy)
- scrambled egg crumbles (you can go without this if you can't find any scrambled egg leftovers in the refrigerator)
- handful of carrots sliced into slivers
- whole grain crunchy corn taco shells
- some cilantro, if you like
-
TABASCO® Original Red
Now this is how I throw this taco together. And believe me, it's such an easy taco to put together - even a young child could do it!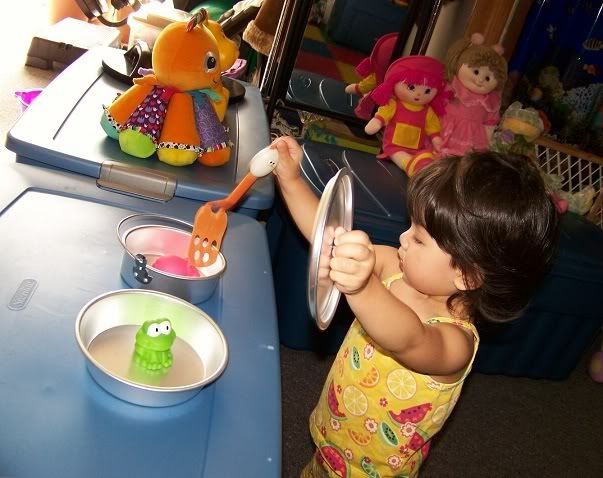 Photo of our toddler Teyla playing "cook," courtesy of MJ
First, I sprinkle
TABASCO® Original Red
Sauce on the inside of the taco shells. Use a generous amount of sauce if you really want your taco to rock, in a FIERY way! Or sprinkle on just a tiny bit. It's all up to you! I then fill the taco up with the ingredients in this order:
- butter lettuce (or any salad greens) first, at the bottom of the taco shell
- kidney beans next. Just spoon them over the greens.
- scrambled egg bits next. Just sprinkle them over the beans.
- then carrot slivers
- some chopped cilantro, if you prefer, over the mixture of beans, scrambled eggs, carrots
- and most importantly, for the finishing touch, a huge splash of Tabasco Original Red sauce over everything!
I love heat, and Tabasco Original Red sauce gives my simple taco just the kick it needs! Because it is such a versatile sauce, I turn to Tabasco whenever I want to add flair to some of my favorite foods, such as fish balls ...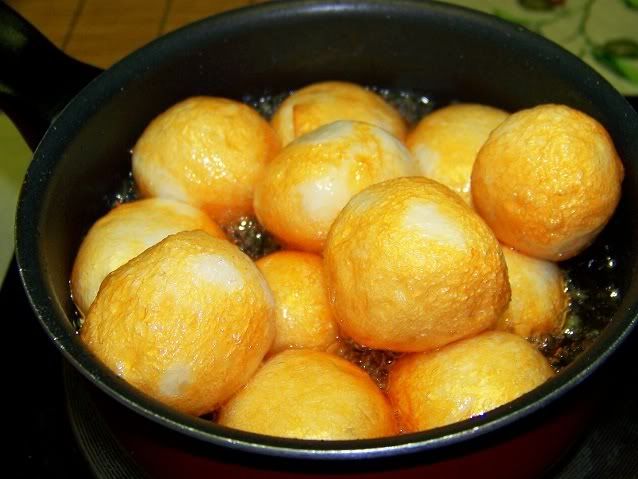 Photo of fish balls, courtesy of MJ
... or when I want to add some pizzazz to an otherwise plain pizza.


Photo of homemade Pizza Perfected, courtesy of MJ (both the pizza and this photo)
Tabasco Original Red sauce can also transform regular
salmon patties
into a fiery seafood delight!
Photo of salmon patties that Rog cooked, courtesy of MJ
And as long as I have the signature little red bottle up on the spice shelf at home, I know without a doubt I can always throw together tacos that will put a smile on my face anytime I want them. No more slipping on greasy floors at those yucky fast food places whenever I get a taco craving! No more having to deal with Adam Sandler look alikes:) Don't forget to visit
TABASCO® Original Red
website to learn more creative recipes and more
Game-Day Party Menu
.
I wish you all many happy taco-making days ahead!
- By MJ