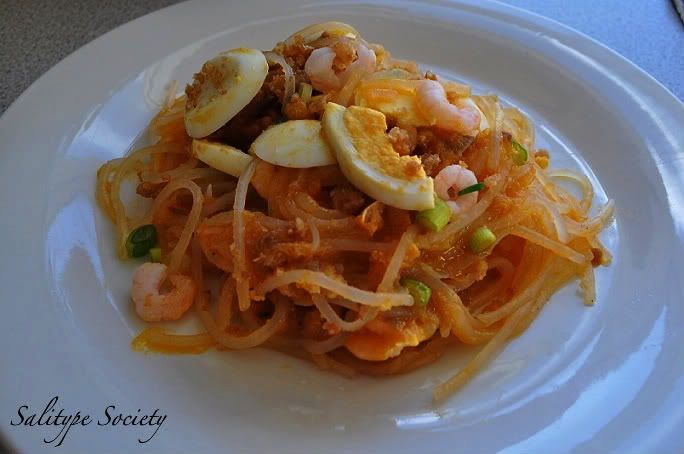 Visit Food Trip Friday to see more
I love Pancit Lug-log/ Palabok. It is one dish that is always a hit in a party - at least a Filipino gatherings. Friends will sometimes asks me to cook it whenever i am invited -- sometimes, i wonder if i get invited only to prepare this one....ha!ha!ha! However, this is an acquired taste. It is a noodle dish full of seafoods. If you are a person adventurous enough to try something new, give it a go. Better still give me a shout and i'll prepare one for you!
Ingredients
Pancit Lug-log noodles
Mama Cita Palabok mix - dissolve in 2 1/2 cups of water
Onion
Garlic
Flaked Smoked Mackerel
Cooking oil
Salt to taste

Garnishing
Pork Crackling - crushed into tiny bits
Spring onion Prawns - steamed
Squid - cut into rings and steamed
Eggs - boiled and cut into ring shapes
Garlic - sliced and fried until golden brown - optional
Boil the noodles like you do in spaghetti noodles. Once done set aside.
Saute onion and garlic. Add the flaked mackerel. Put the dissolved palabok mix and bring to the boil. Let it simmer until the sauce thickens. Once thick add to the noodles and mix until the noodles are well coated for flavor to infused. Add the garnishing on top.
Can be served hot or cold with a slice of lemon.