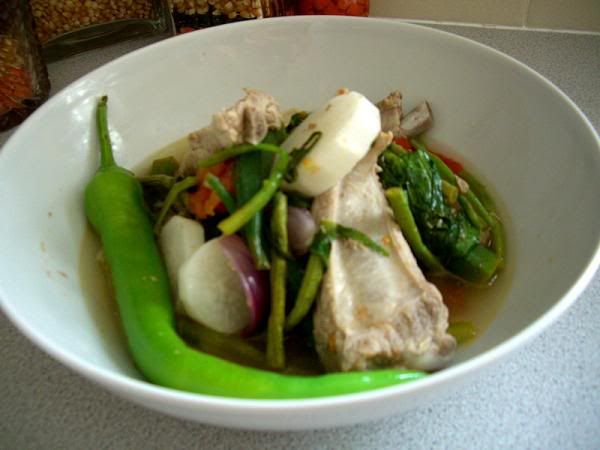 Sinigang is a Philippine soup and it can also be served as main course with white steaming rice. It is similar to Indonesian's Sayur Asam, Vietnamese Canh Chua, and Thailand's Tom Yam. Its characteristic flavor comes from tamarind which gives it a sour taste and overwhelms the taste of its meat."Sinigang" also sounds very similar to "Singgang", a tamarind soup dish from Terengganu, Malaysia.
Food historians have often extolled the wonders of Sinigang, especially as a refreshing, energising, appetite-encouraging food for the humid tropics. It is as good to serve in dry season more so in wet season. The sour lightness of the soup is a perfect match for the oppressive tropical heat of the Philippine islands.
ingredients
pork belly or spare ribs
labanos/raddish
sitaw/ string beans
okra/
kangkong/water spinach
sili/ long green chili
tomatoes
onion
salt
pepper
sinigang mix/tamarind mix
Wash the pork well.
Put water, depends on how many kilos of pork, in a large cooking vessel.Boil till tender. Add the sinigang mix and boil for a couple of minutes. Seasoned with salt and pepper. Put the sliced tomatoes, onion and the rest of the vegetables and simmer for a minute.Turn off the heat.
Ready to serve with steaming white rice and patis/ fish sauce on the side.