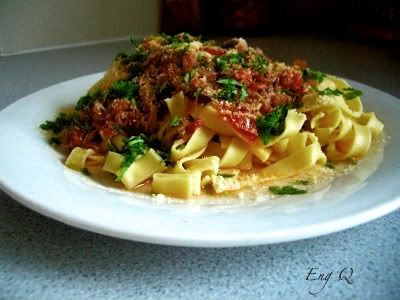 onion
garlic
vine tomatoes
small tin tomatoes mainly to add colour.

freshly ground pepper

sea salt
extra virgin olive oil

finely chopped parsley

parmesan cheese
tins of tuna in sunflower oil
fresh italian tagliatelle

sautee onion and garlic in extra virgin olive oil. add the tin tuna and add the fresh tomatoes, tin tomatoes and simmer in medium heat until all juices comes out of the tomatoes.season with sea salt anf freshly ground pepper .

put the fresh tagliatelle noodles in boiling water for a couple of minutes.

sprinkle the finely chopped parsley and parmesan cheese when ready to serve as garnishing



oh! you can add a pinch of sugar if the sauce proves to be tart to your liking..bon appetit!!!