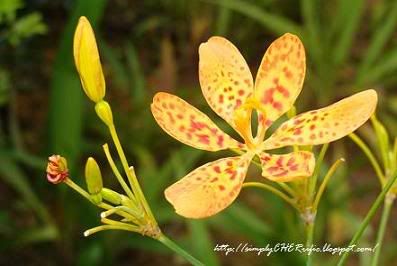 Leopard lilies have 10-inch long, sword-shaped leaves that give rise to 2-foot stems. Each stem holds many 6-petaled, orange flowers speckled with red. Flowers only last for a day, drying with a twist into tight spirals, then falling as pods develop. They are, however, soon followed by other blossoms, flowering during July and August. Eventually the oval, green pods split open to reveal attractive, shiny black seeds.


Origin:
The leopard lily is a flowering perennial of Chinese origin and is locally used in Chinese villages for its medicinal values.


Background:
Leopard lily is an ornamental plant in the Iridaceae family. In 2005, based on molecular DNA sequence evidence, Belamcanda chinensis, the sole species in the genus Belamcanda, was transferred to the genus Iris and renamed Iris domestica.

Variant Names:
Belamcanda chinensis is commonly known as Blackberry lily, Leopard flower, or Leopard lily; its name from different countries includes Belamcanda punctata, Gemmingia chinensis, Iris chinensis, Ixia chinensis, Morea chinensis, and Pardanthus chinensis.
Source: en.wikipedia.org, home.howstuffworks.com
Photograph taken at Fort Canning Park, Singapore by Cher