INTRODUCTION:
The
Salitype Society
was formed by four different, yet somehow similar, dynamic individuals: four women from different walks of life who are separated by thousands of miles and have never met personally but are connected by a common bond - blogging.
The idea of forming a haven for bloggers - amateur and professionals alike - was our desire. Days of brainstorming followed amongst us - taxing, yet very exciting!A few possible names were put forward by each one. After much deliberation, we agreed to carry the name "THE SALITYPE SOCIETY."
SALITA = Filipino word for "talk"
TYPE = the actual act we perform to communicate our thoughts
SOCIETY= a fellowship of social beings with social needs
We type because we have something to say!
We type because we are alive.
We type because we feel.
Salitype is what we have become.
SALITYPE IS WHO WE ARE.
THE SALITYPE SOCIETY: founded July 18, 2008
Secondly,as we moved on, we found another calling in the form of sponsoring a charity foundation. This blog meager earnings partly go to charity –we are sending two students to school aside from helping in our little ways other forms of charity that needed immediate help, all from the income generated by this site.
The Salitype Society First Scholar
The Salitype Society Second Scholar
There is this group Tapulanga Foundation, they are an army of kindness: living among the very people they help. They don't present the gifts and leave. They administer the gifts and linger as good neighbors should. Part social worker, part Sunday School teacher, helping body and soul. Check out the Tapulanga Foundation site for more details and if you also wanted to help a child.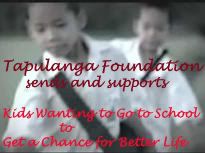 We are NOT inhibited to accommodate other forms of charity --God willing we will generate more funds. For now, baby steps –slow but sure.

We thank you dear readers and supporters of this site. Your help in making this site grow in readership, allows The Salitype Society to live their dreams of giving a child a fair chance in life.